His unorthodox training made his legs and balance incredibly strong.
Corey became a marketing master to make as much as the headliners.
His father keeps him aware of the fighting and promoting side of the business.
Corey Marksman
You can't help but like him when you first meet him. When he talked about his upcoming fight at the time and what it took to get into physical shape for it, you can't help but notice the enthusiasm and confidence in his voice. This is partially due to his father, Angus Marksman, his personal trainer and manager. I would always see his dad training people on the front lawn of his house with a heavy bag and tons of encouragement.
I live around the corner from Corey and his father. I would see them train together from time to time which reminded me of when I use to train with my dad back in Chicago growing up. I think that's why I took to
Corey. He was cordial and easy-going but he trained like a beast on a daily basis.

Corey would also roller skate down the street as if he was born with skates to work on his balance and leg strength. As I said, he is easygoing but serious about his training.
From time to time, I would see him running to cut weight or taking time out to train with a neighbor. What I couldn't see at the time was his commitment to building a fanbase. Most athletes just concentrate on training and performing. Corey had bigger plans.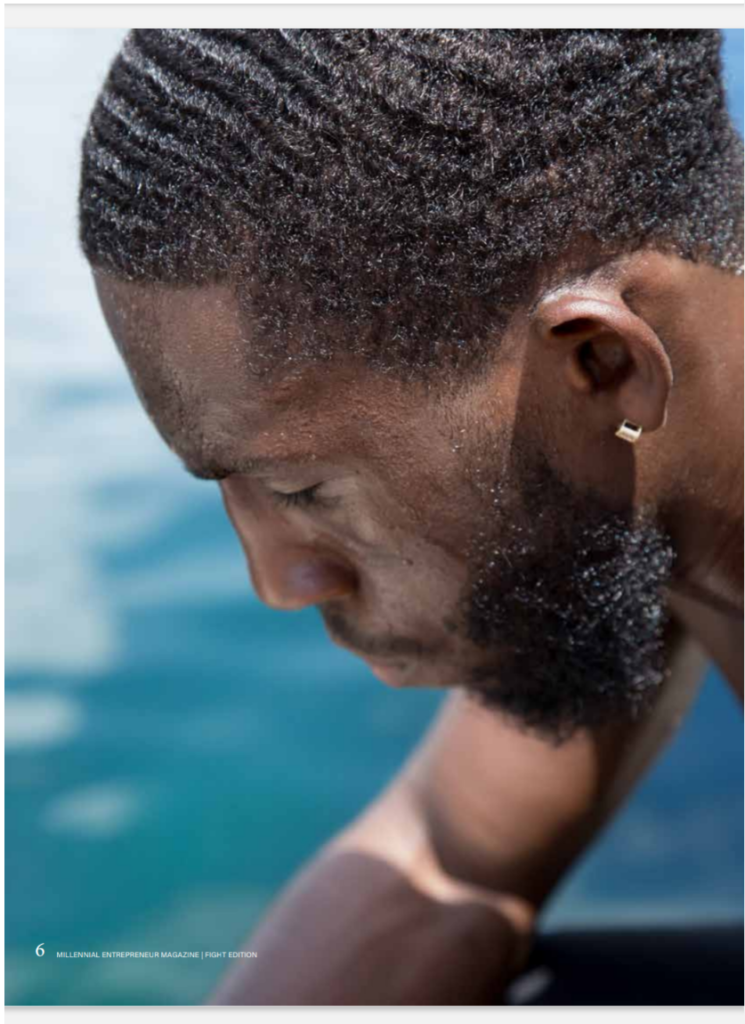 His Nickname is "Smooth" For a Reason
It takes courage to walk up to a neighbor and ask for money in exchange for tickets to an event. But Corey's approach was way smoother than that. One day, I flagged him down when I saw him skating down my street as if he were in a music video. He laughed and told me that it was all part of his training, and skating helps him relax when he becomes too excited thinking about his upcoming boxing match. He paused to see if I would ask a question, and when I did, he smoothly took out his phone and said, "I'll give you a heads up on my IG. The venue is off the chain and if you're interested, you can buy tickets directly from my DMs. By the way, there will be MMA fighting as well as boxing at the
same event". —– I was SOLD!
At this point, I realized I wasn't dealing with a boxer. I was introduced to an entrepreneur. He recognized an opportunity and he went for the knockout. Another set of tickets sold.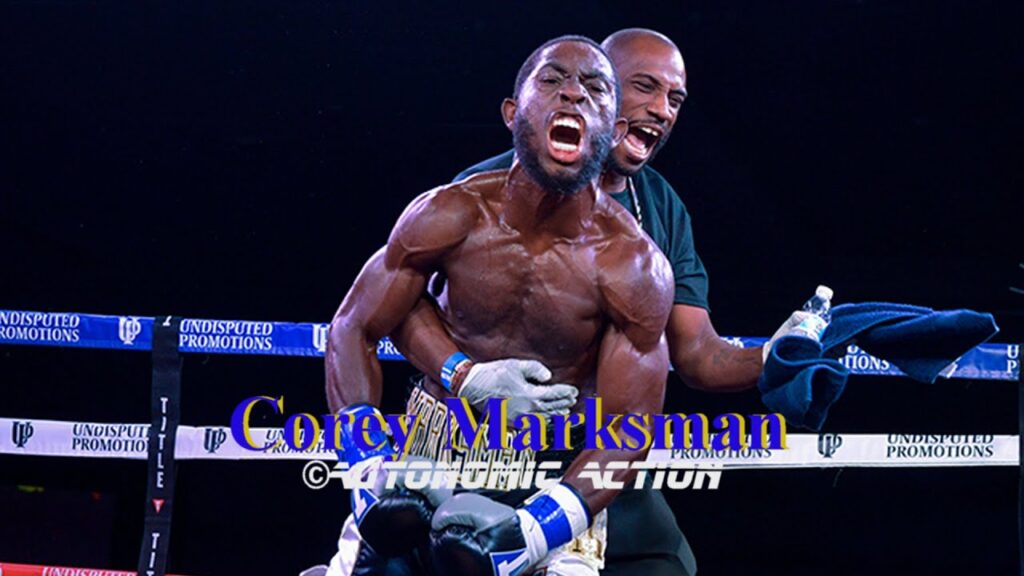 I thought I was the teacher. Then I realized I was the student. I come from a marketing background and ran a few businesses here in Central Florida and in Chicago. I thought I would take this young 20-year-old under my wing and show him the "real world" of marketing oneself.
What I didn't realize, is that Corey had developed his own unique marketing skills that I needed to learn. Before I even got a chance to "mentor" him, he had already paid himself by selling almost 25 percent of the tickets sold for his upcoming event and he already made a nice percentage off of each of those tickets. In retrospect, he was already paid even before he put on his gloves to fight.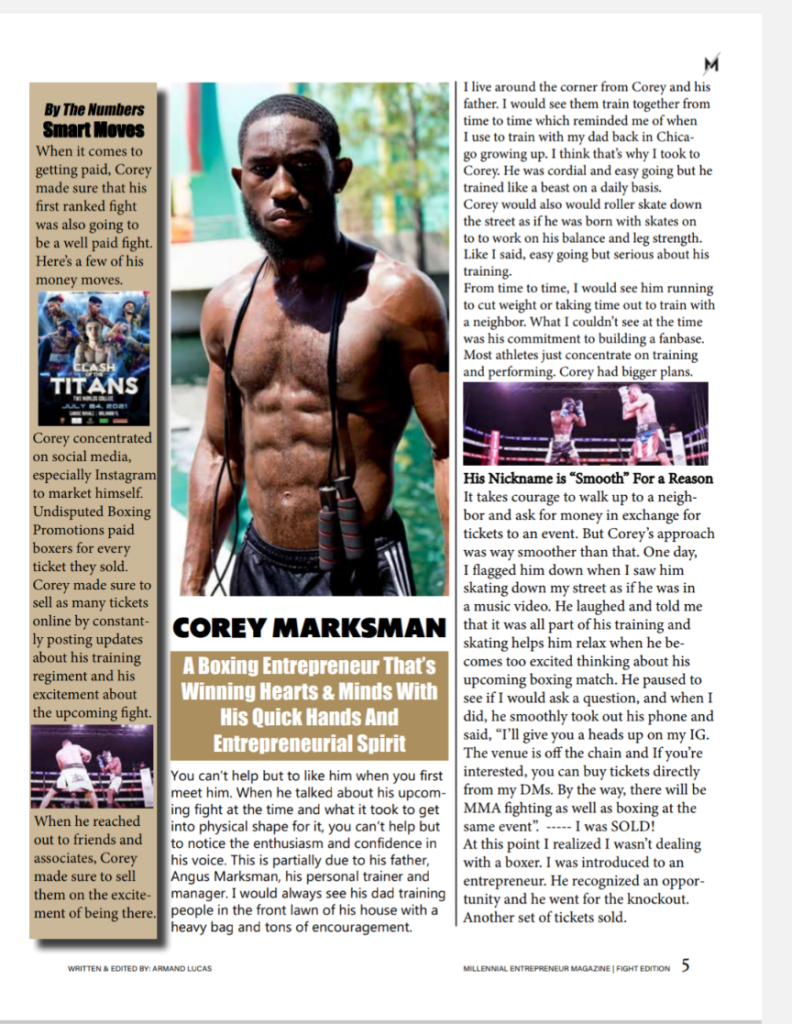 Corey realized that he was the underdog when it comes to dealing with promoters.
When you are starting off in any venture, you are going to be the underdog. The promoters of the fight set the parameters of how much a fighter can make. Lucky for Corey, his father realized the potential of dealing with a promoter that allowed the potential to make as much money as he can by selling tickets to your event and sharing in that revenue.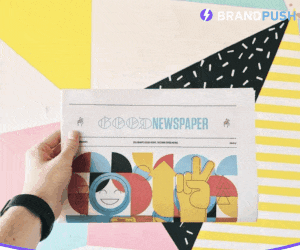 He developed his own marketing to expand his reach
With every new person, Corey meets, he listens to where this person is coming from and if he can find common ground. Corey comes off as humble and rarely starts a conversation about himself unless he's asked about it. Once common ground is established, he exchanges social media info. Once his new fan checks out his posts about the upcoming fight, they're, hooked!
How much did Corey Marksman make on his first-ranked fight?
Tickets to the event ranged from $40 to $150 depending on seating. Corey sold a mixture of seating options through his social media posts and in person. Undisputed Boxing Promotions shared 20% of the ticket price with the fighter who sold the ticket. Corey sold tickets to roughly 25% of the crowd. Bringing in almost as much revenue as the title fighters. The venue was massive and was able to hold 2 rings. One was for MMA fights and the other was for boxing matches.
Positioning himself to be the negotiator and not the pawn. Most first-time fighters get paid as little as $200 to take a fight because they
don't have any leverage to negotiate. Smaller promoters are smart enough to know that they can spend less on promotions if fighters bring in the crowd through ticket profit sharing. The smarter fighter proves himself by bringing in a large amount of the crowd with their own marketing engine. Promoters of all sizes will have to negotiate with these self-marketing geniuses just to survive and thrive in the cut-throat world of fight promotions.
Keeping his options open
Corey is keeping his options open. His father, Angus has shown him how to handle the hustle culture and Corey's success in and out of the ring gives them a lot to think about.

With his fan base ever-expanding and his social media skills on fire. Corey has a lot of options and very few limitations. I will keep up with Corey and his dad to see where they land in the next several months.